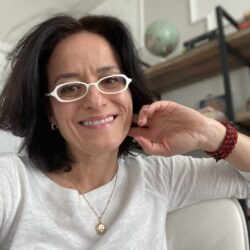 Bio
Serenella Iovino è professoressa ordinaria alla University of North Carolina at Chapel Hill, dove ha inaugurato la prima cattedra congiunta di Italian Studies and Environmental Humanities.
Studiosa di filosofia e di letterature comparate,  è tra i protagonisti internazionali del dibattito sulle scienze umane per l'ambiente e l'ecocritica. I suoi libri parlano di paesaggi e corpi, ecologie letterarie e resistenze artistiche, animali non umani e umani altri, terremoti, inquinamenti, giustizia ambientale e creatività della materia. 
Dal 2008 al 2010 ha presieduto la European Association for the Study of Literature, Culture and Environment (www.easlce.eu)  e dirige collane editoriali di cultura ambientale presso le case editrici Cambridge University Press e University of Virginia Press. Le sue pubblicazioni in italiano includono i volumi Filosofie dell'ambiente (Carocci, 2004 e successive ristampe) ed Ecologia letteraria (Ed.Ambiente, 2006, 20152). Ha curato Material Ecocriticism (Indiana University Press, 2014), Environmental Humanities (Rowman & Littlefield, 2017) e Italy and the Environmental Humanities University of Virginia Press, 2018). Il suo libro Ecocriticism and Italy: Ecology, Resistance, and Liberation (Bloomsbury, 2016) ha ricevuto il Book Prize dell'American Association for Italian Studies e lo MLA Aldo and Jeanne Scaglione Prize for Italian Studies. 
Di ecocritica e cultura ecologica ha parlato in festival, eventi pubblici, documentari e programmi radio-televisivi trasmessi da Rai Tre, Rai Cultura, e Radio Tre.